Travel Guide of Morocco








Kristy of Morocco – tours and consulting on everything Morocco!
Kristy specializes in private tours….click here to learn more.
Click here for new National Peace Corps Association trips with Kristy!
We all have childhood fantasies – and myself, I dreamed of exotic faraway places, camel caravans, endless sand dunes, palmed lush oases, mysterious veiled women, and dark-skinned men draped in blue with matching turbans.
When I first arrived in Morocco, some 33 years ago, it seemed that I had found the destiny of my youthful dreams.  I had found a world that shares so deeply with the past that I had thought it only existed in my wildest dreams!
The magical Kingdom of Morocco, to me, represents one of the last surviving examples of an ancient world.  It is a land that almost seems suspended in medieval times.  Just the fact that we can actually see it, feel it, and mix with its people is a miracle that never ceases to amaze me!
On our Kristy of Morocco camel trek, we will return to the spirit of the past by exploring remote Berber mountain valleys, and giant green expanses of oases—all whose peoples' traditions and customs have not changed for hundreds of years.
We will ride our camels through the orange-colored dunes of the Sahara and sense the vastness of the great desert.  And to begin and end our trip, we will tour the incredibly mazed labyrinths of the ancient imperial capitals of Marrakech and Fes. Here is where we will really be able to sense that we are in a very traditional ancient world, one that is eternal, just because it has never changed.  That it has survived the westernization of our modern world will truly astonish us and in the end, we will have a better understanding of the past and what has brought us to the present.
Kristy of Morocco also promotes High Atlas treks, Anti Atlas treks, oasis treks, art and textile trips, and specialized shopping tours – all are adventurous and always evoking feeling of a long forgotten medieval culture.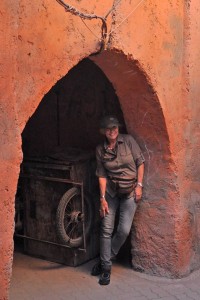 Photos by Barbara Robert 


by admin