Your Adventure
Email me to arrange a tour! kristylarson@hotmail.com
The adventure of a lifetime…
Specializing in private tours
Kristy specializes in small group custom trips.  With these trips, the client can benefit from Kristy's deep knowledge of Morocco, having the opportunity to meet locals in Berber villages, explore markets or souks and enjoy a mint tea with a local family. Kristy seems to know everyone in Morocco and from her deep friendships with the people of the country, you will be able to discover a great depth of feeling as to how the locals live and think.   She can customize your journey whether it be walking through oases villages during date harvesting season, or riding camels through remote areas of the Sahara, or viewing the arts and weaving of the local Berber tribes, or walking through unmapped villages in the High Atlas, or wandering through valleys in the Atlas Mountains while the almond blossoms are bursting in pale pinks. If arts and crafts are what you are interested in…Kristy has already bought one or two of everything and can help you explore for whatever sparks your interest.
Other trips…
Camel trek into the Sahara desert
Tour Marrakech, the exotic pink city at the base of the High Atlas Mountains.
Travel over the High Atlas Mountains through the land of Berbers and along the old caravan route and past crumbling kasbahs.
Hike through villages in the High Atlas.
Hike through the Draa Valley Oasis, discovering another Saharan culture and an ancient caravan route.
Travel into the heart of the Sahara desert. Ride camels and hike from two to seven days.  Pass through an incredible variety of landscapes, from pumpkin colored dunes to grayish mountains.
From southeast Morocco, explore another caravan route along the Ziz Valley Oasis and continue heading north over the Atlas Mountains to the medieval city of Fes.
Fes, the cultural and intellectual center of Morocco, with an ancient medina, a UNESCO World Heritage site.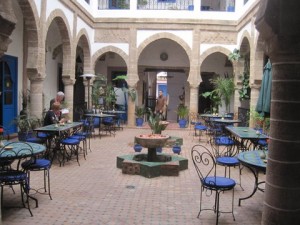 Create your adventure…
OR consider a hiking and canyoneering adventure along the ancient trade route of the M'Goun River during late September or the end of May. You will meet an ancient tribal group of Berbers who have not changed their dress and traditions for centuries!  You will walk through the M'Goun River and then through its magnificent gorges and over the majestic High Atlas Mountains
Visit the remote Anti Atlas Mountains during almond blossom season in February.
OR consider a trip focused on souks (rural markets) and textiles.  Each tribe of Morocco has its own particular design of rug design of dress—and style of jewelry and even music!
OR visit Essaouira, an incredibly charming city on the coast of the Atlantic, which once served as the main port of Morocco. Tour guide Kristy was a Peace Corps Volunteer here and will introduce you to her friends. You will be able to see how the native people live, visiting their homes and enjoy a meal or mint tea with them.

by admin